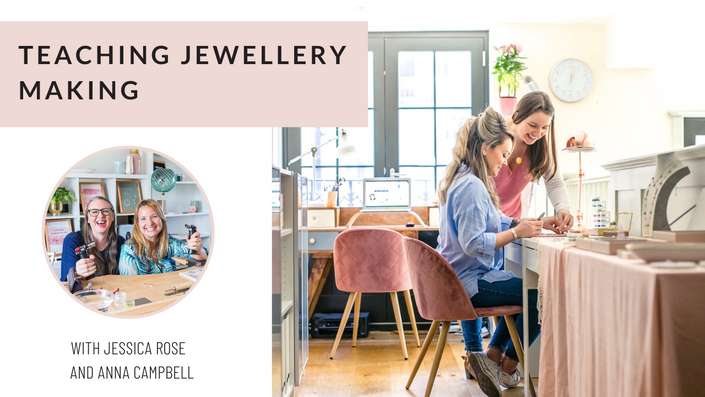 Teaching Jewellery Making
Share your love of jewellery making through teaching
If there's one thing we LOVE at Jewellers Academy it's sharing our knowledge with others and seeing what they create.
If you've ever thought about teaching jewellery making then you are in the right place.
Teaching is so rewarding. Plus it's a great way to diversify your income.
BUT getting started can feel overwhelming.
You may be wondering:

Where do I start?
What should I teach?
What are the health and safety regulations?
What insurance do I need?
Do I need a teaching qualification?
Can I teach from home?
How do I price my workshops?
Don't worry. These and many more questions you haven't even thought of yet are answered in this online course - TEACHING JEWELLERY MAKING
This is a specialist course designed for YOU.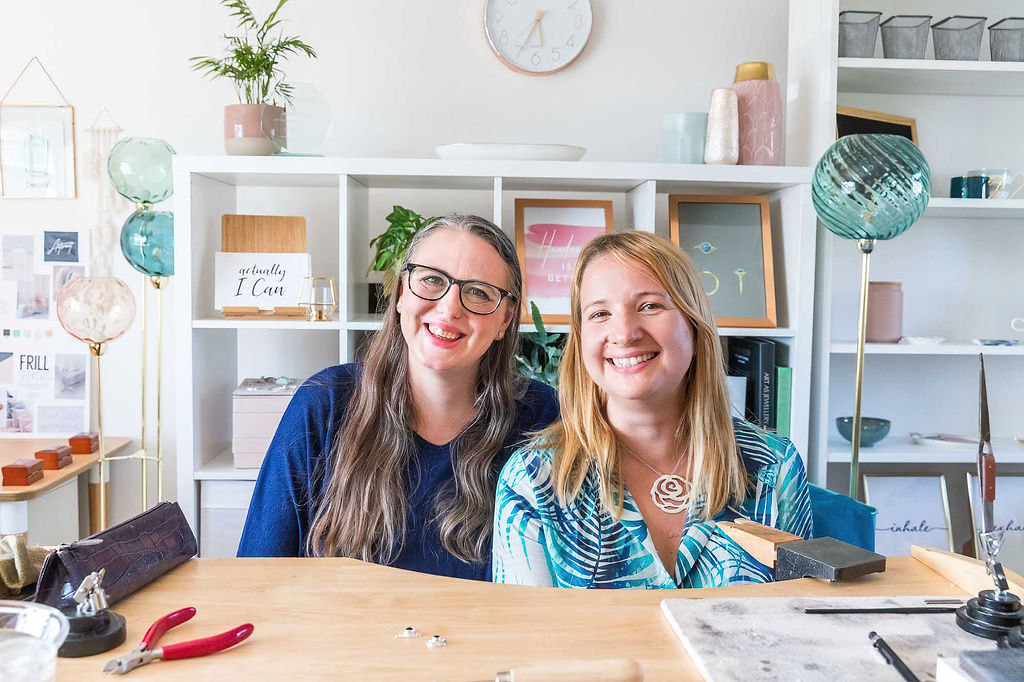 MEET YOUR TUTORS
Jessica Rose (R)
I'm Jessica, a jewellery designer-maker, the Founder of Jewellers Academy and of the award-winning London Jewellery School, which was Europe's largest independent jewellery training company. The school was based in London's Hatton Garden and ran 100's of classes throughout the year, seven days a week for people of all abilities. I am extremely passionate about jewellery making and spend most of my time supporting jewellers to run their own successful jewellery businesses.
Anna Campbell (L)
I'm Anna. My biggest achievement is to move to a new city in a new country and start Jewellery School Scotland - a very successful jewellery teaching business.
Before becoming a jeweller I was a full-time teacher in colleges and universities. I hold a PGCE - PCET (Post Graduate Certificate in Education - specialising in Post Compulsory Education and Training). I have also taught and assessed on the City and Guilds Award in Education and Training (formally called PTLLS) in a college in London, UK.
I continue to teach jewellery making at my company Jewellery School Scotland as well as online courses for Jewellers Academy.
What is included in the course:
18 bite-sized videos covering what you need to know to confidently start your jewellery teaching business
Downloadable notes
Completed example paperwork including session plans and a health and safety form
A swipe file of forms including a template session plan, health and safety form, course plan and more to download and make your own
Purchase this course now for lifetime access - watch as often as you like!
We've broken this course down into 18 bite-sized videos so you can quickly access the content you need.
Preparation
1. Introduction to the course
2. What should I teach?
3. Planning for a successful workshop
Logistics
4. Jewellery-making tools for teaching
5. Location location location - where should I teach?
Teaching audiences
6. Teaching private tuition
7. Teaching children
8. Jewellery-making parties - birthday, hen parties etc
Case study
9. Setting up a jewellery teaching business case study - How I moved to a new city and set up Jewellery School Scotland
Planning
10. What to do - before the workshop
11. What to do - during the workshop
12. Health and safety for teaching jewellery-making workshops
Profit, pricing and advertising
13. Pricing your jewellery-making workshops for profit
14. How do I advertise my jewellery workshops?
15. Making additional income from your workshops
16. Gift vouchers for your jewellery-making workshops
17. How to deal with complaints
18. Final thoughts
If you've considered teaching your jewellery-making skills then know that you can absolutely do this, that it is both rewarding and profitable.
FAQS
How does this online course work?
You get lifetime access from when the course goes live. The videos are pre-recorded with our professional film crew. Watch the videos in order or dip into what you need right now. Plus you get downloadable notes, example plans including session plans, health and safety AND our swipe file of templates so you can get started straight away.
What if I don't teach jewellery making now?

Perfect. This course was designed for you! It takes you through everything you need to consider in order to get started.
Do I need a formal teaching qualification to teach jewellery workshops?

The quick answer is no. The long answer is, it depends!
If you want to start teaching classes yourself either from home or a rented space you don't need a teaching qualification in the UK (and most countries are the same). If you have the ambition to teach at a school or college then you may want to study for a formal teaching qualification in the future. However, we suggest that you start here with everything you need to set up just as you are.
I already teach jewellery making. Is this for me?
Congratulations! It's such fun isn't it? This course can help you feel confident that you have everything covered in your current teaching practice. Plus it may give you some lucrative new ideas as we cover teaching groups. private tuition, hen parties and children's groups.
See you inside!

Jess x