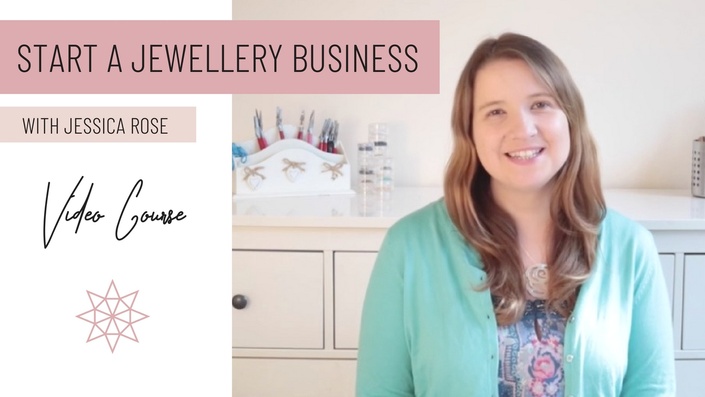 Starting a Jewellery Business: FREE Video Course
Learn to launch and grow your own successful and profitable jewellery business in this FREE three part video course with Jessica Rose
Hello and welcome to my three part video series on how to start and grow a sucessful and profitable jewellery business...
Sign up today and get access to the course immediately. We recommend you take the course over three weeks, completing week 1 first then moving on to weeks 2 and 3. Although if you prefer to work through them quicker or slower be our guest!
Upon signing up you will get access to three video lessons, jam packed with tips and tools to help you launch and grow your jewellery business and brand.
To join me - ENROL NOW on the button above and gain exclusive access.
So what will be covered each week?
Video 1 – My Top Tips for Building a Jewellery Business: This lesson is full of essential top tips to get you set for success! We will be thinking about the foundations and building blocks to starting or growing a solid jewellery business and get you ready to start building your jewellery business model in Video 2!

Video 2 – Business Planning for Jewellers: I will guide you though an amazing business planning tool 'My Jewellery Business Model'. Looking at; your vision, customers, pricing, collections, suppliers and much more from a strategy viewpoint (sounds very formal but is super fun!). Download your handy 'Business Start-up Guide' and work along with me to create a model for your dream handmade jewellery business.

Video 3 – Building a Brand for Your Jewellery Business: It's all about branding your jewellery and your business looking at your ethos, your copy and your visuals so that the people who want to buy from you, are not only aware of your brand, but they covet and desire what you have to offer! Sounds great!

Through out the video lessons you will learn all the basics about how to build a profitable and productive handmade jewellery business!
Let's Get Started! – enroll today to get exclusive access. And be sure to sign up to the lovely and supportive Jewellers Academy Community Facebook Group where you can share makes and ask questions to us and the community at https://www.facebook.com/groups/jewellersacademy/

Feel free to connect with me on instagram using the handle @jewellersacademy

Jessica x
Your Instructor

Hi I'm Jessica, a jewellery designer-maker and the Founder of Jewellers Academy and of the award-winning London Jewellery School.
I am extremely passionate about jewellery making and spend most of my time supporting jewellers to run their own successful jewellery businesses. I am here to help you in any way I can with your jewellery making and look forward to learning more about you and your creations.
I would love to connect with you on Instagram: https://www.instagram.com/jewellersacademy/
Course Curriculum
The Jewellery Business Start-Up Guide
Available in days
days after you enroll
WEEK 1: Start a Jewellery Business Top Tips with Jessica Rose
Available in days
days after you enroll
WEEK 2: Business Planning for Jewellers with Jessica Rose
Available in days
days after you enroll
To see the full curriculum, including week 3, click the little drop-down arrow above :-)