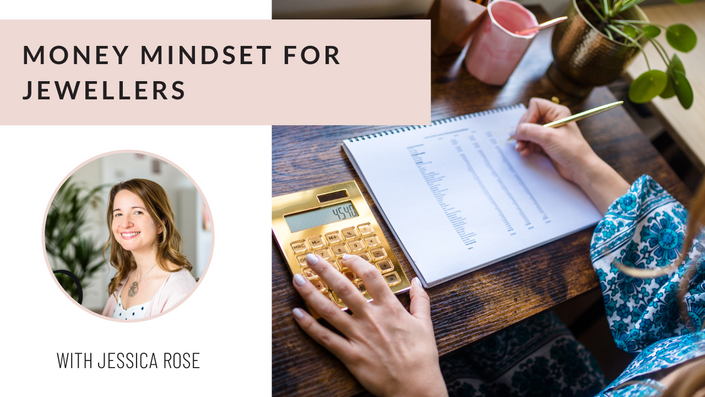 Money Mindset for Jewellers
What would your life look like if you didn't worry about money?
Are you confident that your jewellery is priced fairly to ensure you make a profit?
Do worries about money stop you from taking risks to grow your business?
What is Money Mindset and why is it important?
Your money mindset is your unique set of beliefs and your attitude to money. A lot of our attitude to money comes from our upbringing and the attitudes of our family so it has deep roots and can be difficult to change on our own. But what you believe about money will affect how you live your life and how you run your business. This is a fundamental issue that affects many of us, particularly women.
Gender disparity research
There is a lot of research to show that a lack of confidence around money affects women especially.
In one survey, when asked "What is your biggest challenge when it comes to pricing," some common themes emerged like "not knowing what to charge" but the words used by men and women varied greatly.

Women were more likely to use the words Time, Confidence, Fair, Mindset, Passion, Fear, Skills while men used the words Deals, Competitive, Invest, ROI. Men were twice as likely to use the word 'money' and only 2% of women surveyed did.

Women who knew the average salary for a job proceeded to ask for less when they were negotiating for themselves

Women wait to be 100 percent qualified for management positions whereas men don't hesitate to apply.
(Note: we use binary terms - man and woman - when writing about gender in this context because the issues here are around cultural conditioning that happen when we are called 'male' or 'female' at birth)
IS IT TIME TO CHANGE YOUR MONEY MINDSET?
If you know that you have issues with money then know:
It's not your fault
AND
It's up to you to change your relationship with money
That's what we're here for.

What is covered in this course?
This online course is broken down into bite-sized chunks.
Why is Money Mindset Important?

What are Your Money Beliefs?

What is Your Money Personality?

What Blocks the Flow of Money?

Affirmations for Money

Visualisation Exercise

Your Money Moodboard

What are Your values and How Do They Relate To Money?

Writing Your Comfortable Money Plan

What Will Your Ideal Customers' Money Mindset Be?

The Ongoing Money Mindset Journey
(The Money Mindset course will not be included in Jewellers Academy membership)

How to use this course
The course features bite-sized videos on different topics around money mindset. We suggest that you watch it through once as the videos do follow on from each other. Then you can pick what you want to go back to at any time.
Complete the exercises. With an issue like money mindset, you need to be active when working through your issues. You wouldn't go to the gym and just look at the equipment and then go home! We know that isn't going to work. So doing the exercises is important to help you make the psychological shifts you need to make. Buy yourself a lovely journal (any excuse to go stationery shopping!) and reflect on the questions and prompts.
In addition to the videos you get:
full set of course notes including a reading list
Affirmations for Prosperity audio
Visualisation exercises to help re-train your brain
You get lifetime access to this course so can go back to it whenever you like