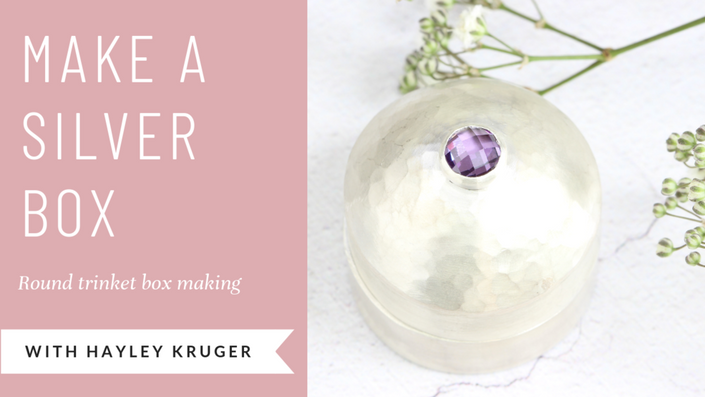 Make A Silver Trinket Box (Advanced Silver Course)
Learn to make a beautiful nesting lid silver trinket box. Great for Developing your Silverwork Skills
Enrol in Course
Learn how to design and make your own silver trinket box in this advanced level course
If you're a jeweller looking to extend your skills in jewellery design, making and soldering then this course is for you! Taught in a series of bite-sized videos by expert jeweller, Hayley Kruger, in this courses you will learn how to create your own silver trinket box with a nesting lid.
You will learn how to:
Design
Construct
Measure
Solder
Pierce
File
Polish and finish your bespoke silver trinket box with nesting lid to a professional standard
All of these techniques take time and practice and in this in-depth video course we have 9 lessons to guide you through the process which you can re-watch as many times as you like to perfect the skills and master the techniques.

This is an advanced level class that will help you develop your confidence in all areas of metal work as well as being a lovely project to make and sell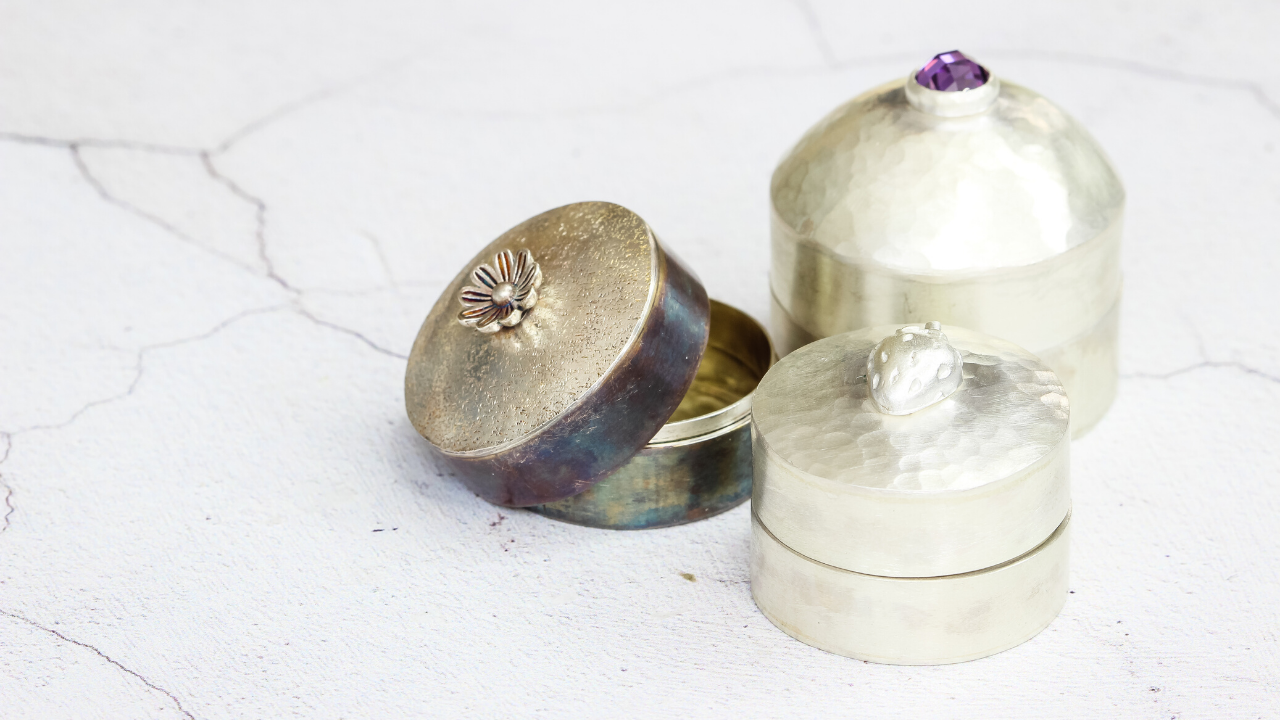 What Will You Get?

Lifetime access to comprehensive video lessons, guiding you through all the techniques, tips and tricks to perfecting your stone setting
Advice and guidance from an experienced jeweller on how to manage commissions and working with clients
Downloadable course notes to work alongside the videos
Access to our supportive community of jewellers and tutors to help you at every stage of the process
Access to the videos 24/7 - you can stop, pause, rewind and replay as much as you like
Excellent close-up shots to see what is happening in each step so you don't miss a thing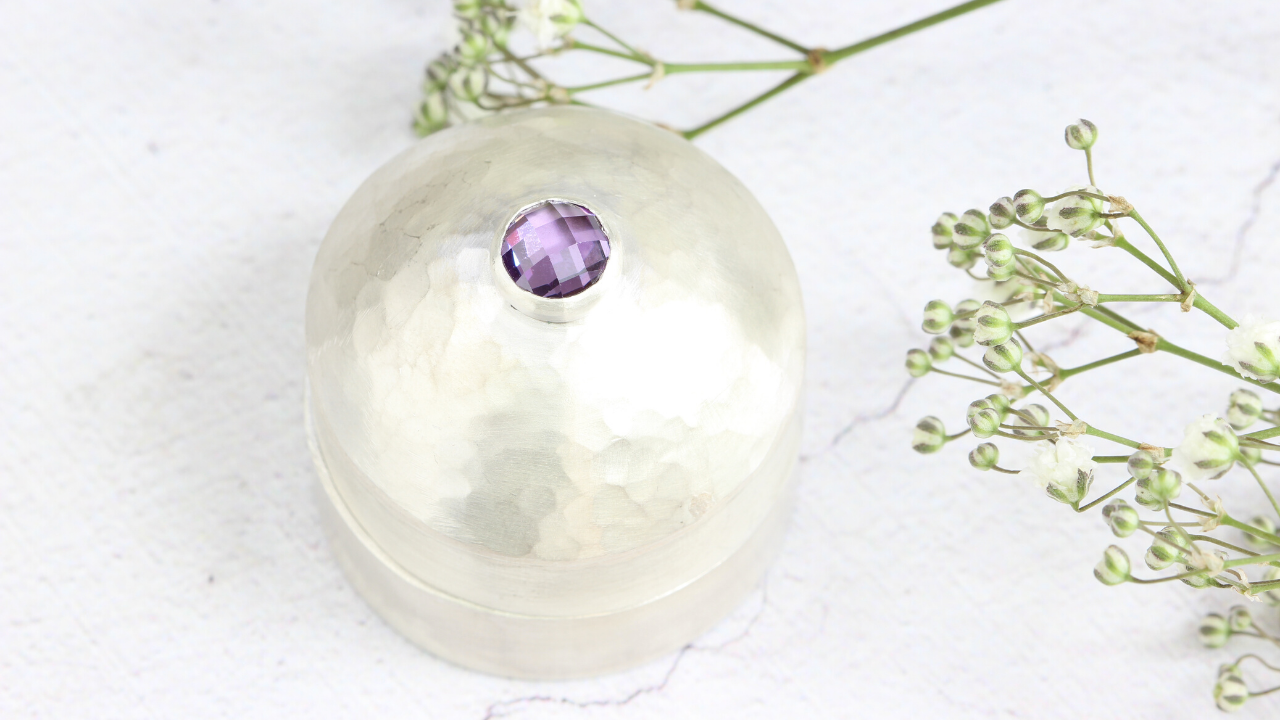 Your Instructor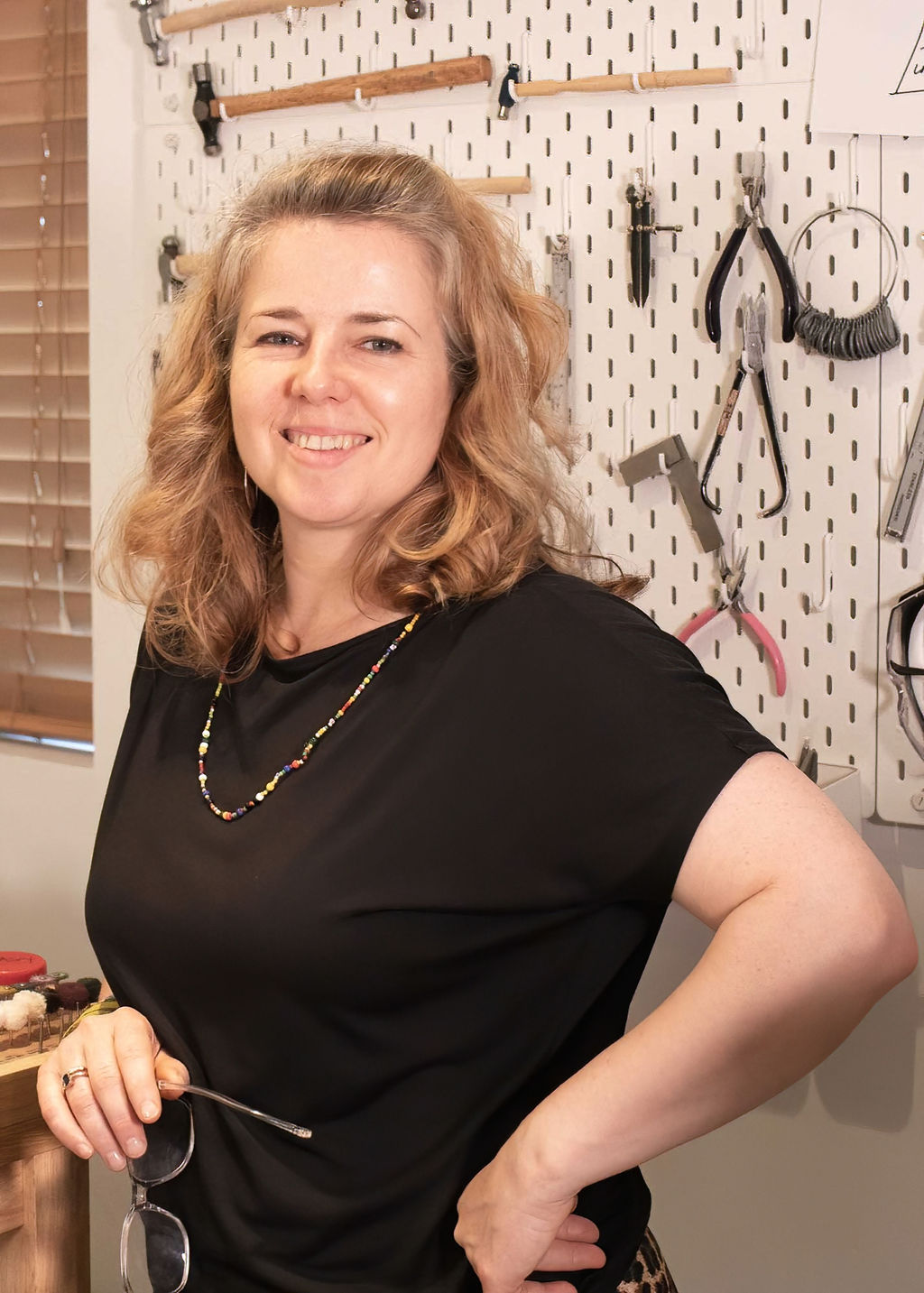 Hayley is a bench jeweller with over 20 years of experience. She runs her own company making and selling high-end bespoke jewellery.
She has taught at the London Jewellery School for 8 years and also teaches workshops from her own studio. Having been a mentor on the London Jewellery School Diploma for a number of years she is experienced at working with students and has a great capacity to support them on their journey to professional silver and gold jewellery making.
My main focus now is dividing my time between creating bespoke and commissioned pieces for private clients, as well as consulting small jewellery business on ranges, design and production. And of course I love being a tutor for Jewellers Academy and various other organisations and community groups.
Believing in myself and pushing myself to learn and grow even when the hurdles seem so high. As a result I was invited to show my work at the Victoria and Albert Museum, I have been published in Vogue, Stylist and Marie Claire to name a few. And I was invited to be an ambassador for Triumph Lingerie's Women in Making campaigns 2013 and 2014.
Colour is my main source of inspiration, and no matter how hard I try to use muted colours, a flash of bright fuchsia or some tropical hue always seems to find is way into my work. Recently I have found myself drawn back to my roots by being drawn to traditional techniques and skills.
Hayley's website: www.hayleykruger.com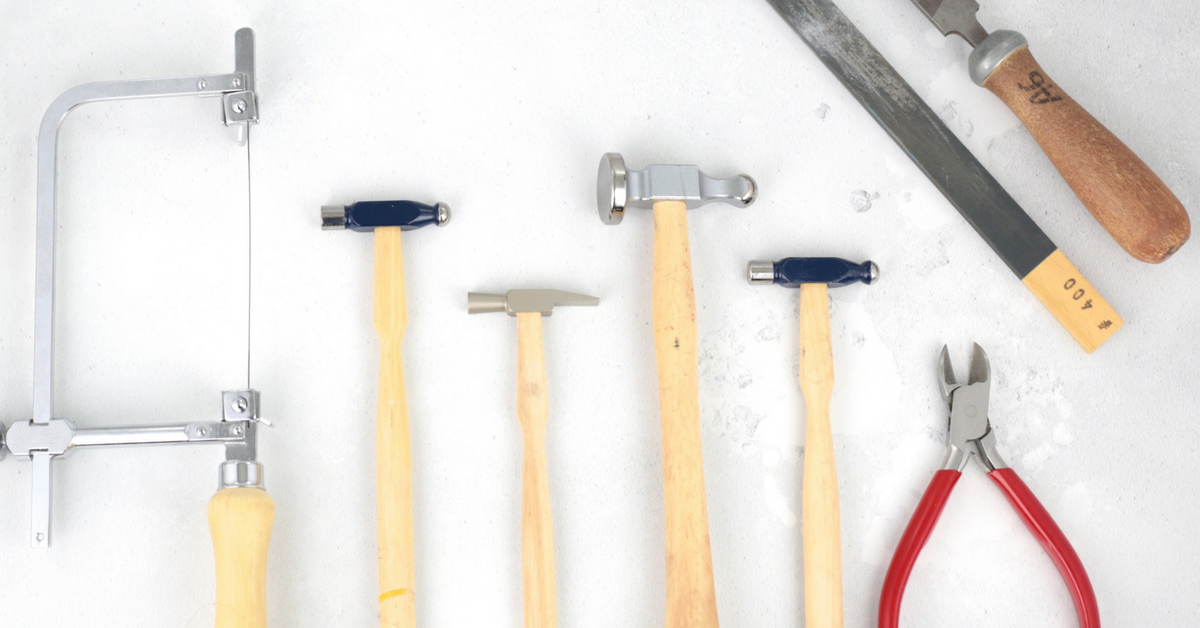 This is an advanced level course suitable for jewellers who have experience of working with sheet silver metal and are competent at soldering and basic stone setting.
If you are new to working with silver but would like to give it a try take a look at our beginners course The Silver Jewellery Workshop, the Soldering Masterclass and Stone Setting in Silver first.
Tools and Materials
Tools
Bench peg

Piercing saw and blade/s

Wax to lubricate saw blade

Ruler

Fine permanent marker e.g. sharpie

Flat file

Needle file set

Steel block

Tweezers

Rawhide mallet

Ring mandrel or doming punch

Pliers set - flat nosed, round nosed and D shaped

Parallel pliers

D shaped pliers

Doming block and doming punch

Sandbag

Sandpaper - coarse, 800 - 1000

Emery sticks

Propane/butane torch

(we used the GoSystem torch)

Jewellers charcoal block

Firing/soldering bricks

Binding wire

Bowl for quenching

Flux and paint brush (borax is recommended

for larger pieces like the box)

Safety glasses

Jewellers pickle

Optional: Pendant motor/Dremel/Foredom with flex shaft attachment

Important: ensure you read the instructions and safety guidelines before using and al

ways wear safely glasses when using a pendant motor

Your choice of polishing mops
Materials
2 x silver strip.

Each strip is 85mm or 8.5cm long, 8mm deep, 0.8mm thick (these are for the side of the box and the side of the lid)

2 x square piece of silver 3.5cm x 3.5cm

for the base of the box and lid. Thickness is your choice, the thicker the piece,
the more heat you'll need to solder it. Hayley used 0.5mm thickness in this example

1 x silver strip. 85mm or 8.5cm x 5mm - 0.5mm thick.

This is for the inner rim of the box

Embellishment of your choice for the top of the box (see the course for more info)

Hard solder and easy solder
Suppliers
To source your tools and materials, take a look at our list of worldwide jewellery suppliers https://www.jewellersacademy.com/jewellery-supplie...
We look forward to welcoming you on the course and seeing your new creations soon
Student Work...
Here are some beautiful boxes made using this course
Made by (left to right) Sue Chapman and Lynne Glazzard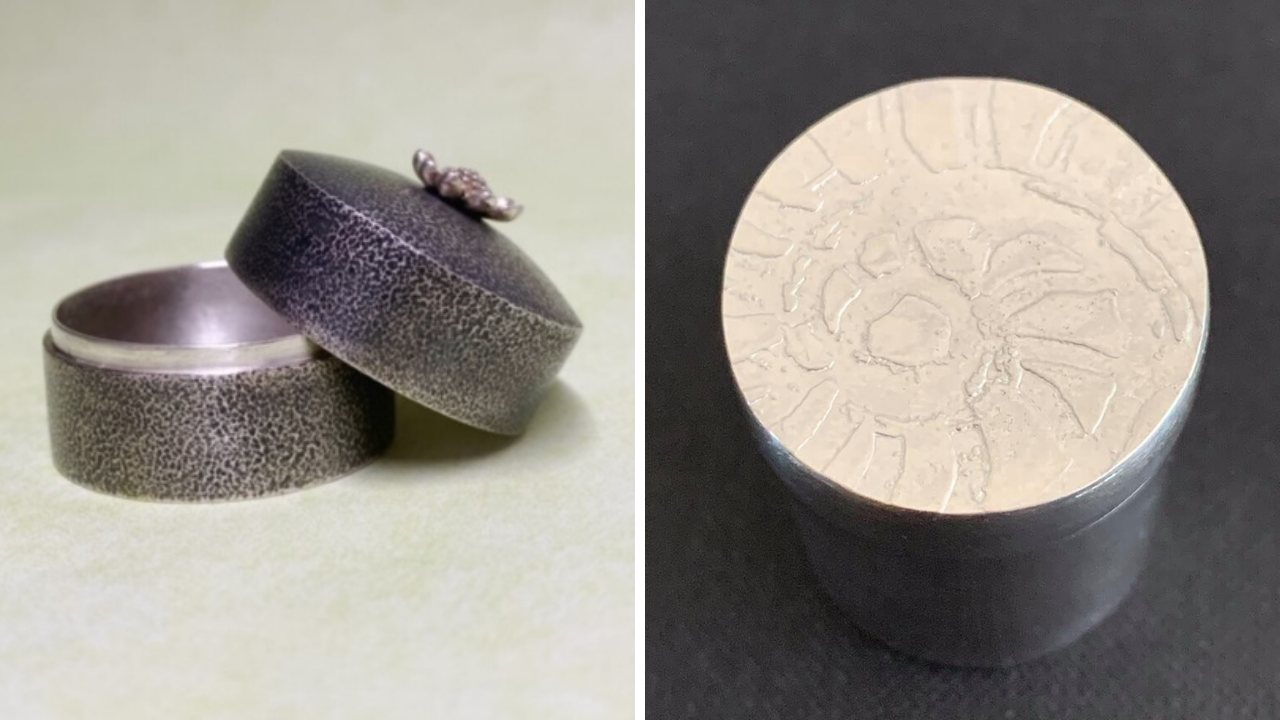 Enrol today and get started making your own masterpieces...