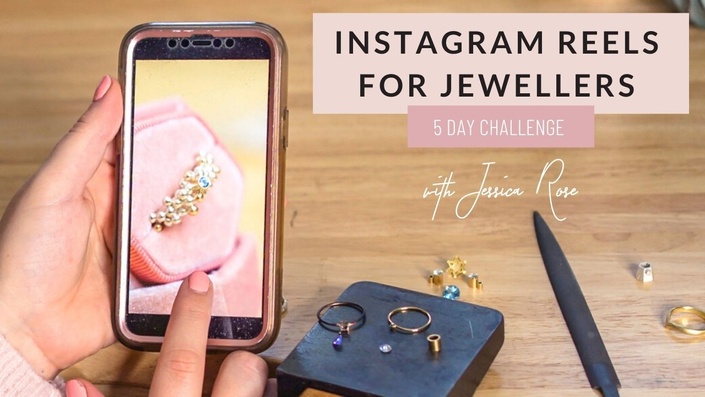 Instagram Reels for Jewellers
5 Days, Post 5 Reels on Instagram - Let's grow your following by 200 Before Christmas Season!
Would you like to grow your Instagram followers by 200 in a week?
Uh, yes of course!
Then join our Instagram Reels Challenge
Instagram reels are the secret to growth right now - in your number of followers and, ultimately, your sales.
As jewellers, we are preparing for the busy Christmas period so now is the perfect time for new followers to find you and fall in love with your jewellery.
REELS WORK!
So let's focus on what will have the biggest impact for you and your business.
Sign up now for the FREE Instagram Reels Challenge

The live challenge starts on Monday 20th September 2021 and runs until Friday 24th September 2021 (and for the overachievers among you there are some prompts for the weekend too!).

Erm. But what exactly are Instagram reels?
Good question! Instagram reels are a way to create and share fun and engaging videos. Reels can be a maximum of 60 seconds so it's not about creating some massive project, it's about sharing something small. And they can be made with your smartphone - you don't need any fancy video equipment or editing abilities to get started.
And no, you don't HAVE to show your face in your videos if you don't want to.
Don't worry if you don't know how to use reels - yet! We've got you!
Join me for a FREE live masterclass on Wednesday 15th September at 8pm BST. I will be showing you how to create Instagram reels as well as talking you through the challenge and answering your questions.
PLUS there will be a pop-up Facebook group to support you throughout the challenge. Get your reels questions answered and join a community all working towards the same goal.
What you can learn on this Challenge:
I have created this challenge to help kickstart your use of Instagram or to help you grow if you already do them. You will learn:
How to use Instagram reels
What to post on your reels
The best time to post
What to say in the caption
How to use hashtags to get more views from non-followers
And more!
Posting for the Challenge:
Here are the prompts to get you thinking about what you would like to share.
Post your videos each day under the prompts (see below) and use the hashtag #jareelschallenge and tag us @jewellersacademy in your reels so that we can come and find and share them too!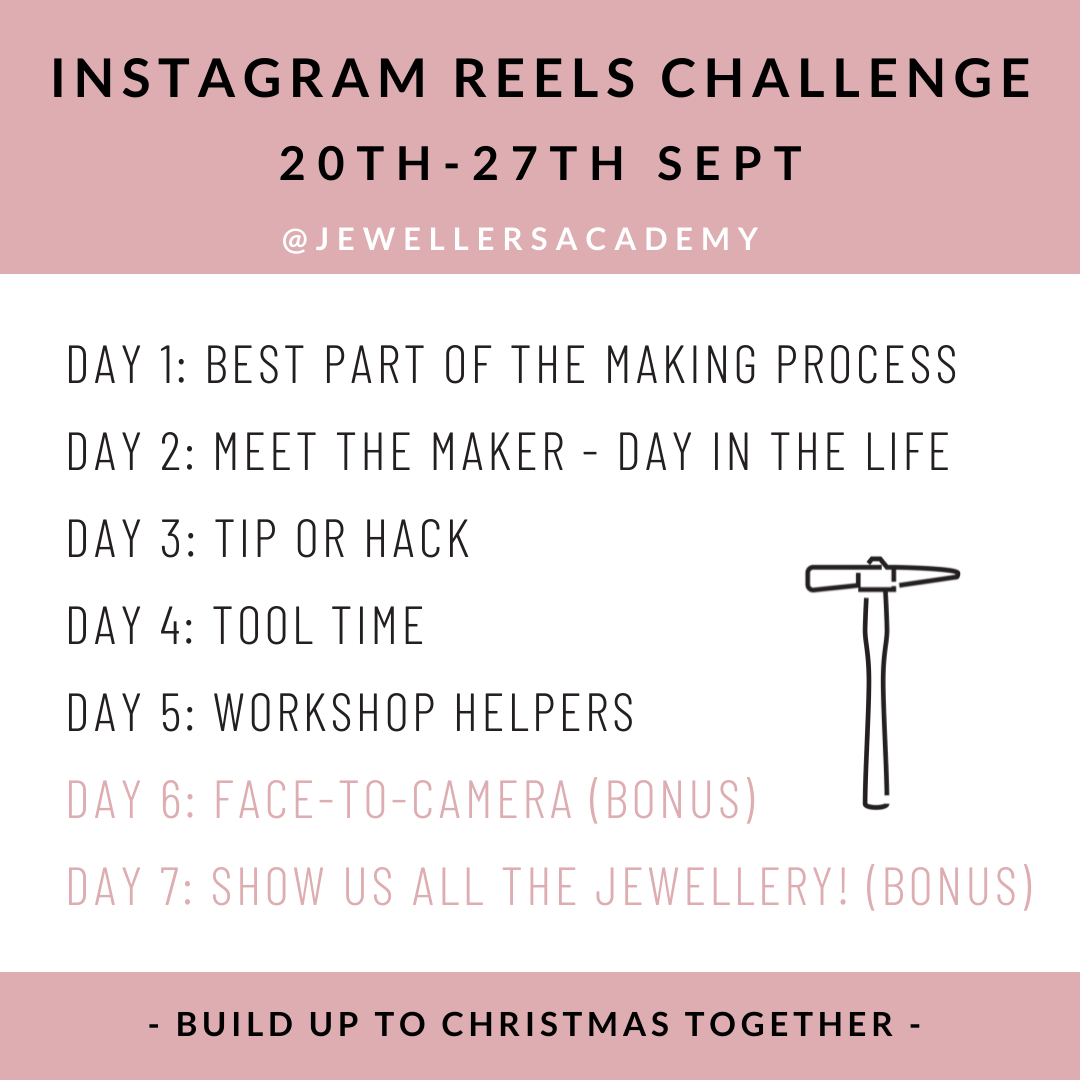 Each day you'll get an email with a reminder of the prompt for the day as well as tips and advice.

Use this challenge as a time to experiment, try so new things and see what works for you! You can also come and share your tips for video on our Insta page each day and inside the pop-up Facebook Group.
By the end of the week, you will have the info you need to continue making reels after the challenge to grow and connect with your audience.
I can't wait to see what you share!
Join the challenge now to get the masterclass and Facebook group link, as well as the email, prompts.
Best of luck with the challenge. I can't wait to see what you create and how you grow.
With love,
Jess x