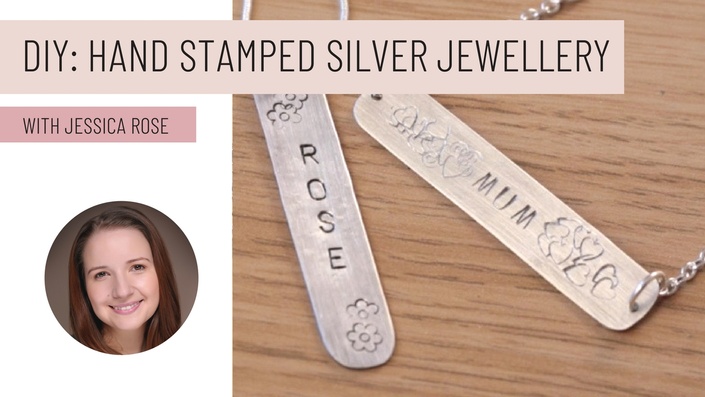 Hand Stamped Silver Jewellery
Learn to make personalised silver hand stamped jewellery in this 30 minute FREE tutorial with Jessica Rose
Introduction:
Make your own beautiful hand stamped jewellery in this fun FREE video tutorial complete with your own set of downloadable course notes.

Learn to make the metal blanks to work from, how to sand-down a lovely curved shape in sterling silver, how to prepare the metal before stamping and how to finish your piece with a lovely silver chain.
A great addition to your jewellery making tool box! Enroll today for instant access :-)
What can I Make?
A full selection of hand stamped pieces. Once you learn the basics there will be no stopping you.
Your Instructor

Hi I'm Jessica, a jewellery designer-maker and the Founder of Jewellers Academy and of the award-winning London Jewellery School.
I am extremely passionate about jewellery making and spend most of my time supporting jewellers to run their own successful jewellery businesses. I am here to help you in any way I can with your jewellery making and look forward to learning more about you and your creations.
I would love to connect with you on Instagram: https://www.instagram.com/jewellersacademy/
Course Curriculum
Hand Stamped Silver Jewellery with Jessica Rose
Available in days
days after you enroll
Tools and Materials:
For stamping:

Steel block (or can use steel top of the bench peg
Metal letter stamps/ patterned stamps/ number stamps/ any stamps you like
Masking tape
Black felt-tip/ marker pen
Hammer or mallet
Scrap metal for practicing on (copper or brass squares are good)
Scotch-Bite cleaning pad
Steel block (or bench peg with steel bench top)
For creating your own silver shapes to stamp on (blanks):
Silver sheet: 0.7mm thick, 6cm long and 0.8mm wide.
Benchpeg
Needle File or large hand file
Buff Stick or emery paper
Jewellers saw and blade (necessary if you are going to be cutting a shape out of your silver before stamping)
Firing brick
Torch
Tweezers
Pyrex or heatproof glass blow and water (for cooling down metal) not essential
For finishing the necklace:
Punching tool
Pinion hand drill or pin vise
1mm drill bit
18 inch silver chain,
2 silver jumprings (6mm),
side cutting pliers, flat nosed pliers and chain nosed pliers
Suppliers
Join our community of jewellery makers and get excellent training and support for your learning. Sign up to a course today :-)